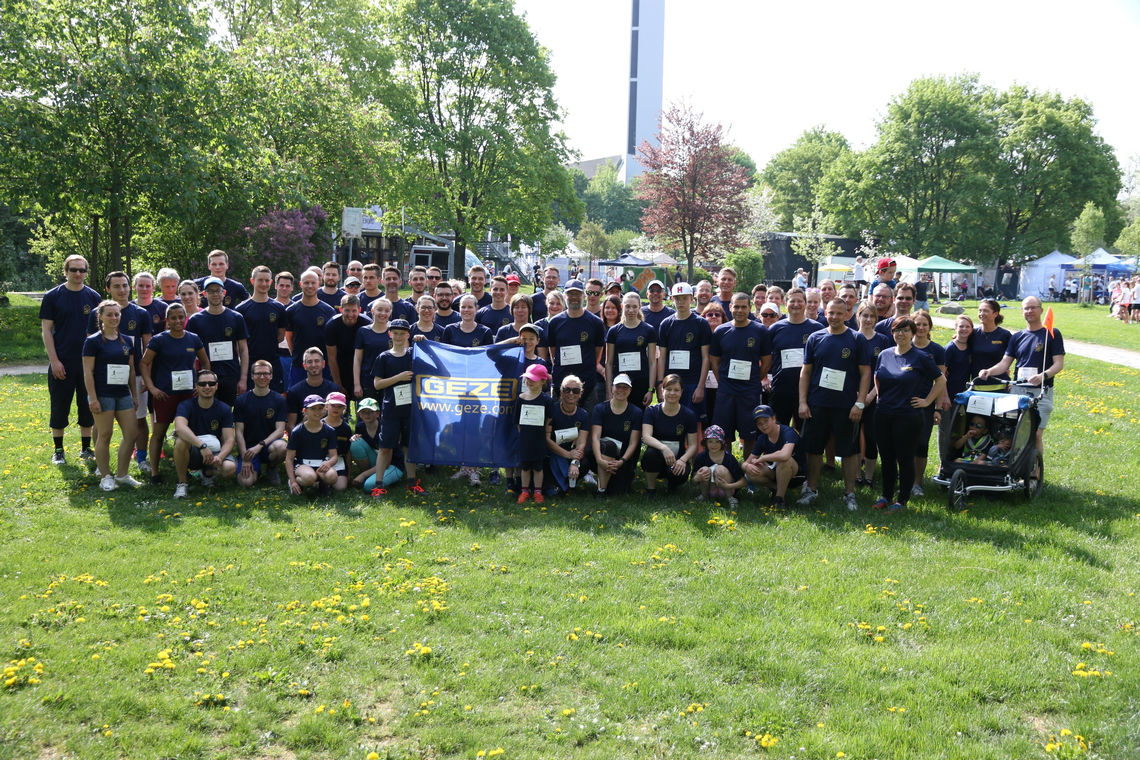 Running and donating: GEZE teams fully committed to the cause
Our employees also come together during their leisure time. Running training is one example. After all, taking part in races is all in a good cause. GEZE supports and sponsors the teams.
Ditzinger Lebenslauf – a charity run for the benefit of Mukoviszidose e.V. (cystic fibrosis)
Our runners were highly motivated and in a good mood on a beautiful spring day.
Every year in April, a Sunday is thickly marked in the calendar of many GEZE employees: The date of the Ditzinger Lebenslauf. A sponsored run that supports the work of the charity Mukoviszidose e.V. The focus is not on speed, but rather the number of kilometres covered and the donations generated as a result. All the runners seeks sponsorship from family, friends, or colleagues. Over 4,000 runners took part last year's 20th Ditzinger Lebenslauf, clocking up kilometres and donations for cystic fibrosis sufferers.In 2019 there were even more than 4,700 runners who ran 63,578km together - an absolute record.
Understandably, GEZE supports the event as Ditzingen is next door to Leonberg. The GEZE LEO team is one of the largest groups of participants. Every year we provide over 100 runners. Many employees come with children and skittles to run as many kilometres as possible for a good cause. GEZE rewards every kilometre run, so that in 2019 4,288 euros came together. Corporate management then topped this sum up to 4,500 euro. Many people took part and their strong team spirit was rewarded with a great result. Our heartfelt thanks to them!
By the way: The next Ditzinger Lebenslauf takes place on 26 April 2020, and we'll certainly be there.
Leonberg City Race
GEZE runners during the 2018 Leonberg City Race © GEZE GmbH
A lot of our employees also took part in the ninth Leonberg City Race on Saturday 30 June, 2018. A total of 1,500 runners covered various distances on different courses. GEZE supports the longest race – the 10 kilometre race – as its main sponsor. The course goes through the picturesque centre of Eltingen, Leonberg's historic old town, and also through the modern town centre. Runners can achieve good times here as it's a relatively flat course. There are several fan miles with live music around the course, making the City Race a "truly great event", as our engineering trainee Alexander Bauer described it. Two colleagues finished among the top 10 women in the 10-kilometre race this year.
The organisers donated any profits generated by the City Race to charities, organisations, and facilities in Leonberg that encourage participation in sport, carry out youth work, or support people in difficult situations.
GEZE supports such sporting events with donations or acts as a sponsor, and we gladly pay entry fees for employees, their families, and friends. It's part of how we encourage our employees to bond and to look after their health, and the runs are popular every year.