The new GEZE development centre in Leonberg
Our claim: We provide ideal conditions for our employees to develop innovative solutions for doors and windows in smart buildings. Which is why we are proud of our state-of-the-art development centre in Leonberg.
We are investing 13 million euro in our future
Modern meeting rooms
Our new development centre offers plenty of space for new jobs and excellent conditions for the development of exciting innovations: on four floors and with a total area of 2,300 square metres. Test and validation rooms, offices, meeting rooms, and creative areas are available.
Centrepiece: our state-of-the-art laboratories
Test, check, and carry out trials - this is now possible with state-of-the-art equipment and the latest robot technology. The climate chamber simulates various weather conditions in order to thoroughly test individual products and complete door systems. The current electronic and measurement laboratories have far more space and capacity than before.
Exceptional work areas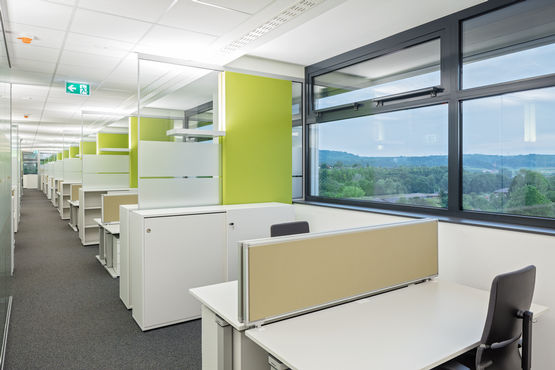 Flexible working spaces © Jürgen Pollak / GEZE GmbH
The architecture of the new building aims to support - and indeed inspire - our engineers and experimental technicians as far as possible. The pleasant atmosphere along with state-of-the-art mobile media technology is great for brainstorming and also for lively exchange of knowledge and ideas between various specialist departments. As new ideas are rarely found at desks, there are agile project rooms as well as creative and quiet areas.
The open-plan office provides views of the surrounding landscape as well as short internal communication channels. Flexible work spaces make agile working easier. Nevertheless, people' s privacy and peace are also protected. A clever sound absorption concept acoustically separates the areas for meetings, passages, and desks.
Work in a 'Smart Building'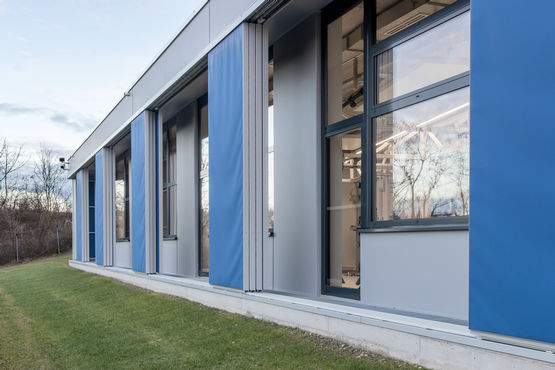 Intelligent façade technology © GEZE GmbH
It's logical, really: Since we are actively engaged in digital building networking with our products and solutions, the new development centre is also 'smart'. All the product groups are intelligently networked and integrated into the building management system. Heating, ventilation, light, shading, doors, and windows communicate with each other and combine for optimal results. As you would expect, our own products can be found in the automation and safety features in doors and windows. On the one hand, this means comfort for our employees. On the other it means we experience our own products and solutions ourselves, and get to understand and value them.
The indoor climate is a frequently criticised aspect when working in offices. At GEZE, the automatic night-time back cooling ensures 'fresh air' at the beginning of the day, and that meeting rooms are ventilated once again before meetings take place. The modern façade reacts independently to the weather outside. If it is sunny then shading automatically takes place, and windows open or close depending on the outside temperature. This is controlled via various scenarios. These settings can easily be changed per zone via a touch panel in the room.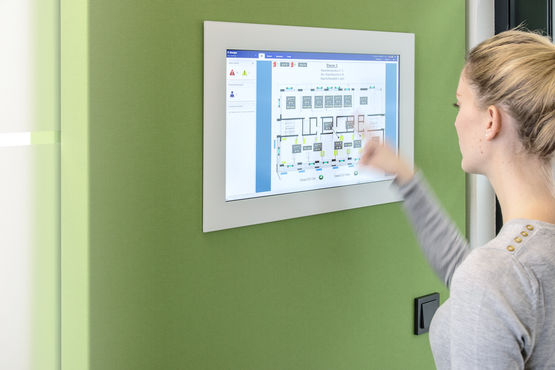 Smart controls via touch panels © GEZE GmbH
There are therefore hardly any push-button switches in the building. All elements of room technology are centrally visible on a single interface and can be seen at a glance. Lighting, windows, doors, indoor climate, or media technology can be controlled by clicking on icons. The newly developed GEZE Cockpit building automation system makes all this possible.
Experience and further develop our own products
In practice, what really makes a building 'smart'? Which networking applications really provide greater comfort, security, and energy efficiency? Which functions are needed in the future? Employees can find answers to all these questions through their own experience at work. That's because in the development centre, we test our products and the effects of these on other product groups under real conditions and on ourselves - simply because we work here every day. We can group, add, or replace products flexibly. Insights gathered in this way help us to further improve the intelligence of all GEZE products. Ultimately, the focus is always on being able to offer customers anywhere in the world optimal solutions.